Our Rehabilitation Center
The Methodist Home's 2,000-square-foot rehabilitation center is the cornerstone of our post-acute and subacute rehabilitation programs. We offer 40 private rooms with full bathrooms for our short-term guests. Plus, patients work with our staff in our "Activities of Daily Living Suite" to promote confidence in getting back to their normal routines once they return home.
Are you looking for effective short-term rehabilitation?
You deserve short-term rehabilitation that is thorough and personalized.
Large short-term rehab organizations often go through the motions and lose sight of what their patients truly need.
Let the Methodist Home provide you with a customized plan of care utilizing one or many of our services to provide you with the perfect way to get back to your life after surgery or illness.
We offer 40 private rooms, each equipped with a full private bathroom, for our short-term guests to maximize privacy and solace.
Our in-house therapists are ready to help you.
Physical Therapists work with short-term rehab patients using exercises, stretching, equipment, and hands-on therapy to improve balance, flexibility, endurance, strength, and more.
Occupational Therapists focus on recovering or and maintaining the skills needed for completing activities of daily living. Specific therapy exercises will vary per each short-term patient.
Speech Therapists assess and improve speech, language, cognitive ability, and oral skills involving eating and swallowing. Patients experiencing dysphagia often benefit from receiving speech therapy.
Let the Methodist Home provide you with the therapy and rehabilitation you need.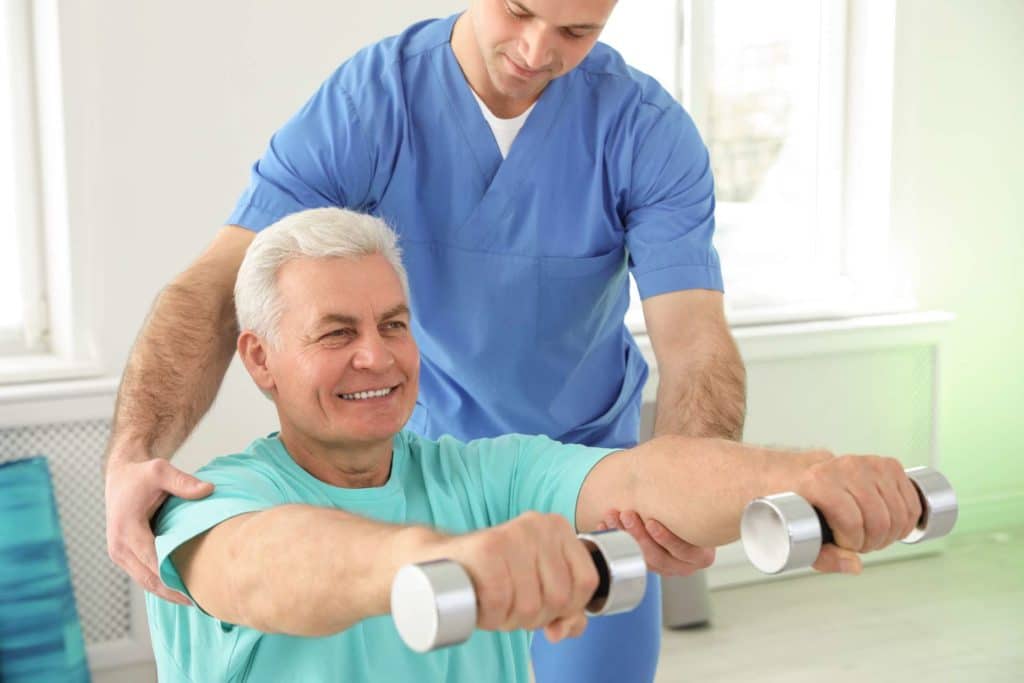 Orthopedic and Joint Replacement Rehabilitation
This type of short-term rehab is recommended after total joint replacement to ensure pain-free use of your new joint and to improve your overall quality of life.
This program features a carefully constructed program of various therapies to help you in relearning valuable skills that are impaired following a stroke.
A combination of therapies used in our cardiac rehab program will help improve your health and recovery from heart disease or heart attack.
We aim to improve strength and range of motion, reduce swelling, and educate amputees on how to handle everyday tasks with a prosthesis.
Director of Rehabilitation
How Our Intake and Rehabilitation Process Works
You tell your physician or case manager you want to receive short-term inpatient rehab at the Methodist Home.
They send your information to us for review, and we confirm we can accept your case.
Our interdisciplinary team develops a care plan with you to help you regain strength to return home.
This was my dad's third stay at Methodist for rehab. I've consistently been impressed by the kind, respectful staff and the positive manner in which they interact with the clients and their families. Every staff member who came into the room for whatever reason was pleasant, polite, and friendly. The grounds are lovely and when my dad is there I have every confidence that he's very well taken care of. As a temporary resident, my dad has also been consistently impressed with the level of care he has received. It's a small, intimate facility that is very well-run and staffed with caring people.
Orthopedic and Joint Replacement Rehabilitation
We specialize in short-term and post-acute care, and that includes helping patients needing orthopedic and joint replacement rehabilitation following an injury or surgery.
In addition to receiving skilled nursing services and therapy services, patients will enjoy privacy and safety during their stay with us in our sub-acute/short-term rehabilitation unit dedicated to short-term rehab guests.
Regardless of the individual needs of each of our short-term patients, our team always has a primary focus to maximize functioning and independence on the focused path to return home.
Our primary goal for each of our short-term rehabilitation patients is to help them regain strength and return to their prior level of function. Our therapy and nursing departments work together to help each patient meet their treatment goals so we can get them back into their own home as quickly as possible.
Once nursing and therapy goals have been met, our care coordination team works with each patient to ensure a smooth discharge process.
Inpatient Nursing & Rehabilitation Services
Physical therapy to restore range of motion, strength, endurance, and mobility

Occupational therapy to focus on daily home and self-care tasks in our state-of-the-art Activities of Daily Living suite

Post-surgical care

Pain management
We specialize in helping patients recover and regain strength following orthopedic surgery or joint replacement. We look forward to helping you.
The five-star rated post-acute and short-term care services include a special program for patients needing stroke rehabilitation services. Our stroke recovery program provides rehabilitation services guided by a physiatrist with as-needed neurology consultations. Weekly interdisciplinary reviews are also completed in the facility including all departments involved in each patient's care.
Our team's primary focus is to help patients regain function and strength on their path to return home, and all patients enjoy the comfort and privacy of having a private room with a private bathroom.
Rehabilitation Services Include:
Stroke recovery services guided by a physiatrist
Neurology consultations performed as needed
Weekly interdisciplinary reviews
Nursing and Rehabilitation Assessment that focuses on each patient's stroke type and associated complications and risk factors
Other patient assessments including pain management, speech-language pathology and dysphagia, weight and nutrition, mood, and ADL (Activities of Daily Living) function
Inpatient physical, occupational, and speech therapy services
Therapy focuses including cognitive speech, swallowing assessment and training, interventions for tone and spasticity control, sensory retraining, coordination, strength and motor control, visual/perceptual status assessment and intervention, and postural retraining and positioning
Our care coordination team of social workers works to ensure a smooth discharge process once each patient's nursing, therapy goals, and stroke recovery have been met.
Our nursing and therapy teams collaborate with other experts to provide a comprehensive stroke recovery program for our short-term rehabilitation patients.
In our cardiac rehabilitation program, the Methodist Home therapy, nursing, and dining teams work together to create a customized, heart-healthy care plan for each patient who comes to stay with us.
We specialize in short-term and post-acute care for New York City area residents, and we strive to help each of our rehabilitation patients enjoy their stay in our five-star rated facility that features private rooms and bathrooms.
We help our cardiac patients safely regain strength and stamina as they meet their goals to return to their home environment. Individuals of varying ages and conditions can benefit from a short stay in our facility in our cardiac rehabilitation program. Outpatient therapy services are also available.
Conditions We Treat
Heart surgery recovery, including valve replacement and bypass procedures
Heart attack recovery
Angioplasty or stent placement
Angina
Coronary artery disease
Heart failure
Heart transplant care
S/P pacemaker placement
Cardiac Rehabilitation Services Include:
Admission assessments completed by nursing and rehabilitation departments to develop an individualized cardiac rehabilitation plan of care for each patient
Physical therapy sessions focused on building endurance, strength, and mobility
Occupational therapy sessions focused on activities of daily living that are needed to live independently in a home environment
Nursing services to monitor heart rhythms, vitals, medications, and other patient needs
Coordination of consultations with physicians and specialists as needed
A heart-healthy diet and nutrition education
Weekly interdisciplinary reviews to track patient progress
Our experienced team offers sub-acute rehab stays to cardiac patients to help them safely regain strength after a heart attack, heart surgery, or other heart-related condition.
One of our specialties is our post-amputation rehabilitation program, where we work closely with amputees as they recover and adjust to their recent limb loss. Our program after limb amputation offers an individualized treatment plan that is specific to each patient's needs and goals. We understand that amputation is something that affects everyone differently which includes wound care, pain management, prosthetic fitting, and physical and occupational therapies.
The need for a limb amputation can be caused by unexpected trauma, complications from diabetes, or other medical conditions. A patient who experiences limb loss may have an above or below-the-knee amputation, upper-extremity amputation, or a double amputation.
Our attending physician works closely with each patient and our in-house team of therapists, nurses, social workers, chefs, therapeutic activity staff, and other team members to create and execute each patient's care plan. Close family members are encouraged to be involved in this process due to its emotional elements. Though an inpatient stay may be needed for at least some of the patient's post-amputation needs, we also offer outpatient therapy services.
In our amputee rehabilitation program, we help new amputees heal both physically and emotionally from their amputation. When the limb is ready for prosthesis, our physical therapy team works closely with CMS-approved prosthetic/DME partners, like Allcare Orthotic & Prosthetic Services. A dedicated Certified Prosthetist/Orthotist (CPO) comes into the facility for pre- and post-prosthetic fittings, adjustments, and education. They also provide home services or follow-up once discharged from the facility. Patients in this program are provided an in-house consultation by our rehabilitation medicine doctor/physiatrist.
At the Methodist Home, we help our amputee patients safely regain strength and stamina as they meet their goals to return to their home environment.
Amputee Rehabilitation Services include:
Physical Therapy to increase mobility and build endurance, strength, and stamina
Occupational Therapy to help the patient regain independence to return home
In-house access to our Certified Prosthetist/Orthotist (CPO) partners
Coordination of psychology and psychiatry services (as needed)
Nursing services including pain control, limb preparation, and more
Dietary consultation and education
Therapeutic activities
Our amputee rehab program focuses on the physical and emotional needs of our patients, and we work closely with our prosthetic partners through the recovery process.
If your loved one needs additional care after hospitalization to continue recovery and receive physical, occupational, and speech therapy, our skilled nursing team will help them regain strength and ease their transition back home. 
Treatment goals vary for each patient, but may include:
Walking and/or climbing stairs independently

Standing up (using the latest equipment for orthopedic and neurological conditions)

Preventing falls (with advanced balance training)

Managing daily routines such as bathing and dressing

Transfer techniques such as getting in and out of bed (or the car)

Regaining overall strength and endurance

Improving speech and swallowing functions